Fuzzy Rainbow Panda Deluxe Gift Set
Fuzzy Rainbow Panda Deluxe Gift Set
Product Actions
Make it a panda party with this fun children's gift set! This cute gift set has everything little ones need to show off their panda pride. It includes a Fuzzy Rainbow Panda stuffed animal, a matching pair of sequin panda slippers and a wearable children's blanket with flip sequins.
Build-A-Bear
Products
SKU: 028054
InStock
Original Price

$15.00
Sale Price
$12.00
This prismatic panda just might give the most colorful hugs ever! Fuzzy Rainbow Panda takes rainbow fun to the fuzztreme with its bright fur and sparkly paw pads. Dress your panda pre-stuffed animal in its own outfits and accessories for even more fun!
Promotions
SKU: 028076
Get the panda party started with this awesome blanket for kids! This colorful children's blanket has rainbow stripes with a fun panda hood. Plus, this adorable kids' blanket also has pockets for your paws on the inside and flip sequins on the outside—flip the rainbow sequins back and forth with your hand to make them change colors!
Promotions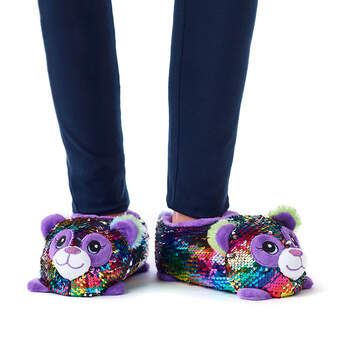 SKU: 28004_28005_28006
Select Styles for Availability
Keep paws warm with this adorable pair of panda slippers! These fun children's slippers have friendly panda faces with shiny rainbow sequins. It's a colorful way to put a little panda pep in your step!
Promotions
Product attributes
Product Name
Fuzzy Rainbow Panda Deluxe Gift Set

Build-A-Bear

SKU
28054_28076_28004_28005_28006
Products
SKU: 028054
Product attributes
Product Name
9in Fuzzy Rainbow Panda

Build-A-Bear

SKU
028054
Color
Multi Bright
SKU: 028076
Product attributes
Product Name
Panda Big Hugs Blanket

Build-A-Bear

SKU
028076
Color
Multi Bright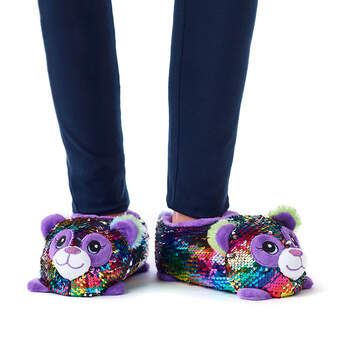 SKU: 28004_28005_28006
Product attributes
Product Name
Panda Sequin Slippers

Build-A-Bear

SKU
28004_28005_28006
You are about to visit
our shopping site
Please note that you must be over 18 or with an adult to buy online