Sensory-Friendly Sundays at Build-A-Bear Workshop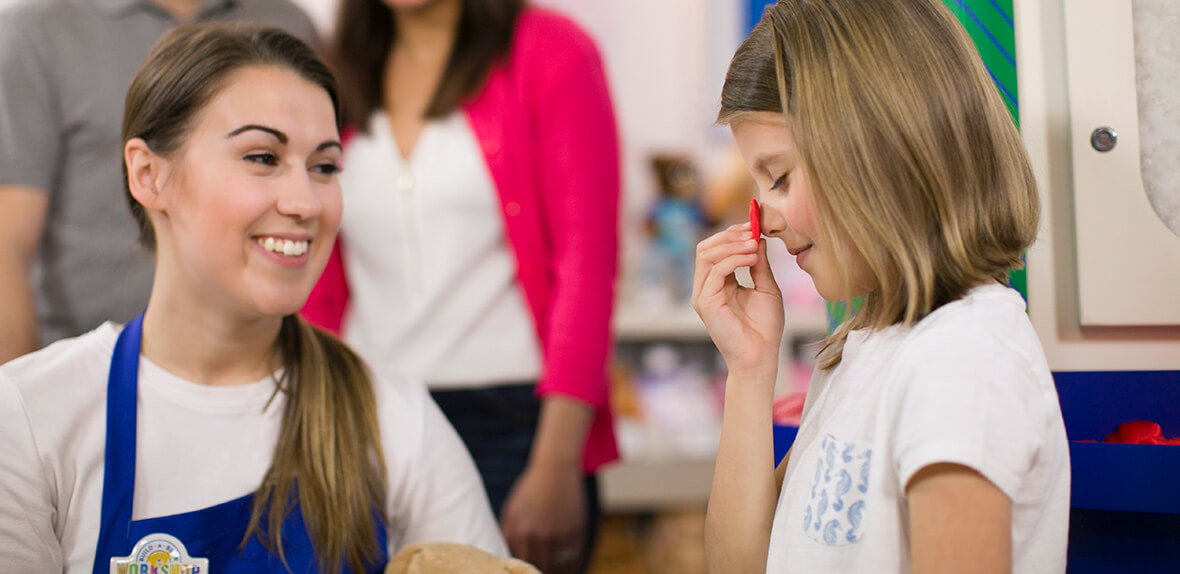 Next Event: Sunday, September 29, 2019.
Build-A-Bear Workshop means fun for everyone! We're proud to support children with autism and other special needs by providing sensory-friendly events at participating Workshop locations. Sensory-Friendly Sundays are designed to provide a less-stimulating Workshop experience that's still fun-filled and unforgettable. Our Bear Builders are committed to making sure every Guest goes through the Build-A-Bear experience in a way that's comfortable for them.
Sensory-Friendly Event Details:
Dimmer lighting
Little to no music playing in the store
Accommodations available throughout the experience
A step-by-step informational guide that allows parents/guardians to plan their Workshop experience in advance (click here to download)
All ages and siblings welcome
Sensory-Friendly Sundays occur in select Build-A-Bear Workshop locations once a month for the first hour of the day.
To ensure the BEARY best experience, please talk to an associate to plan your visit.
Participating Stores
Castleton Mall - Indy, IN
Easton TC - Columbus, OH
Kenwood - Cincinatti, OH
Paddock Shops - Louisville, KY
Fairfield Commons - Dayton, OH
Florence Mall - Florence, KY
Tuttle Crossing - Columbus OH
Greenwood - Indianapolis, IN
Fayette Mall - Lexington, KY
College Mall - Bloomington, IN
Liberty - Liberty Township, OH
Valley Fair - San Jose, CA
Vintage Fair - Modesto CA
Hillsdale - San Mateo, CA
Fashion Fair - Fresno, CA
Solano Mall - Fairvield, CA
Meadowood Mall - Reno, NV
Stoneridge - Pleasanton, CA
Galleria at Roseville - Roseville CA
Oak Ridge - San Jose, CA
Northridge Mall - Salinas, CA
Sunvalley Shopping Center - Concord, CA
Pier 39 - San Francisco, CA
Walmart - Stockton, CA