Corporate Gift Plushes | Interesting Corporate Gifts at Build-A-Bear®
Whether you are looking for trade show giveaways, gifts for client appreciation, employee milestones or off-site events, let Build-A-Bear help! Our furry friends can be customized to your needs with themed clothing, accessories and even your logo. Or consider hosting an off-site event for fun or charity. We offer a dedicated account manager and exclusive designs to service your corporate needs — large and small — and an interactive experience that everyone will remember!
Let Build-A-Bear help your company with:
Client Appreciation and Holiday Gifts
Employee Recognition Gifts and Incentives
Trade Show Giveaways
Donor Rewards
Themed Products for Customer Sale
Interactive Employee Off-site Events
Make It Uniquely Yours: Build a Custom Furry Friend
We will guide the creation of a furry friend just for your company or organization. It can be a plush version of your mascot or a furry friend curated from our online product assortment that is customized with your company logo. For added personalization, we can create tailor-made clothing and accessories including logo'd hoodies or custom tees. The possibilities are endless!
A few things we need before we get started:
Your target budget
A minimum order of 2,400 to 4,800 units for furry friends or clothing
Please allow 5-6 months for development, production and delivery
Custom Tiny Tees®
Add a custom Tiny Tee to any furry friend. It's simple! Just supply your artwork.* You can order as few as 144 custom tees or as many as you want for your program. Please allow 5-6 weeks for development and production.
*AI. EDITABLE VECTOR FILE FORMAT
Employee Engagement and Team Building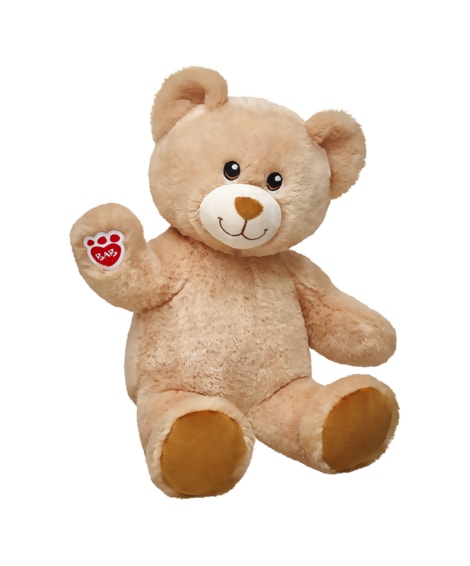 How do you make your next corporate event more memorable? Let your employees and other attendees add a little more

to your next planned get-together by adding Build-A-Bear to the agenda. In one of our stores, or at a location of your choice, we can deliver corporate party experiences for team building, community service, convention activities or philanthropic programs. Exclusive company-themed products can be developed for your event.
Associates from local Build-A-Bear Workshop stores can also attend your event to deliver a personalized brand experience and tailor the event to your company's needs and purpose. L'il cubs, which are available in three colors, are a popular choice for off-site parties. Add a custom tiny tee to promote your event or company.
Examples of what a product costs could include:
100-299 Cubs = $10.20 each (with 15% discount)*
300-499 Cubs = $9.60 each (with 20% discount)*
500-700 Cubs = $8.40 each (with 30% discount)*
Custom Tiny Tees® = $5-$6 each (depending on design and number of colors)
Stuffing = $34 per box (fills 140 furry friends)
Bear-Builder Associates = $25 per hour, plus expenses
* Excludes shipping and taxes (as a guideline, shipping from our warehouse averages approximately $0.46 per furry friend)
Interested? Please contact Corporatesales@buildabear.com at least four weeks before your event. Build-A-Bear will provide a dedicated account manager, organize our staff, and oversee the production of tiny tees to ensure your event is a great success!
Build-A-Bear Workshop Gift Cards
Give the gift of FUN with a Build-A-Bear Workshop gift card! If you're looking for the perfect gift for client appreciation or corporate events, a Build-A-Bear Workshop gift card is a memorable way to give a gift they'll remember! Gift cards are available in increments ranging from $5 to $500. Plus, you'll enjoy exclusive savings if you order Build-A-Bear Workshop gift cards in bulk.
Email us at babw@stonerbunting.com or call 877-309-5664 ext. 3413 for ordering information and to learn more about corporate discounts.