National Teddy Bear Day 2019
EXTENDED!
The Fun Continues In Stores Through 9/12!
The National Teddy Bear Day fun continues at Build-A-Bear Workshop! If you haven't gotten your paws on our 2019 exclusive National Teddy Bear Day Bear, you're in luck: we've EXTENDED the fun through September 12, 2019! Guests of all ages can make their own 2019 exclusive National Teddy Bear Day Bear for just $6.50 with the purchase of any regularly-priced furry friend in the Workshop. Don't miss your chance to share hugs with this limited edition teddy bear!
YOU POST A PIC,
WE GIVE A BEAR!
It's more fun than ever to support a cuddly cause this National Teddy Bear Day. Here's how you can join our mission to share 50,000 teddy bears globally with children in need of a teddy bear hug, through organizations like the United Way & Boys and Girls Club of Canada.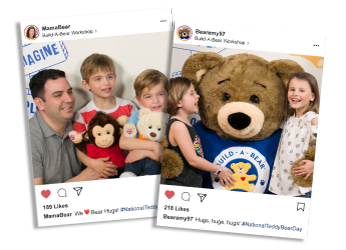 Join Our Mission to Donate 50,000 Bear Hugs!
Take a picture of you celebrating National Teddy Bear Day!
Post your picture on social media using the hashtag #NationalTeddyBearDay
Build-A-Bear Foundation will donate a teddy bear for every picture shared globally!
(Valid September 2nd - 12th, 2019. Maximum donation of 50,000 bears globally. Retail value of donated bear is $12.)
Don't forget to share your photo with Bearemy or your new teddy bear using #NationalTeddyBearDay to join the mission to donate 50,000 teddy bear hugs!
Frequently Asked Questions
National Teddy Bear Day is September 9th, 2019, but we're celebrating TWICE! First we celebrated with three full days of festivities in both Build-A-Bear Workshop and Walmart stores on September 7th, 8th and 9th, 2019, and now we have a new offer valid until September 12th!
Experience National Teddy Bear Day!
Share your own story with #NationalTeddyBearDay, and see even more when you follow #NationalTeddyBearDay on Instagram!