Build-A-Bear Prices
Build-A-Bear® Prices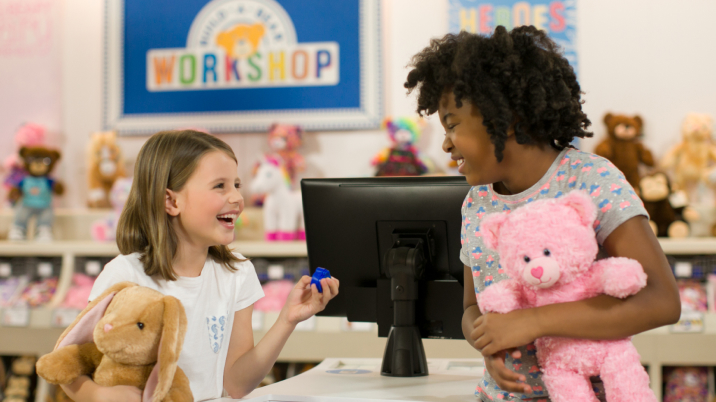 Many people are familiar with the Build-A-Bear name and the in-store Build-A-Bear experience but wonder how much does it cost to Build-A-Bear?
Our furry friends all have a base cost and the total cost to Build-A-Bear depends on the clothing and accessories you choose or don't choose to add to your stuffed animal.
FAQs
How Much Does a Build-A-Bear Cost?

The base cost of many Build-A-Bear furry friends starts at $14 while our most expensive base stuffed animal is $40. The prices customers see in our online store matches what you will find at a brick-in-mortar location.

Build-A-Bear offers hundreds of unique outfits and accessories to make every stuffed animal from our store unique. There is nothing wrong with only purchasing a base stuffed animal, but if you wish to personalize your bear it will cost more. Along with shirts, pants, shoes and hats, Build-A-Bear offers unique licensed accessories like lightsabers for Star Wars™ stuffed animals and wands for Harry Potter™ bears. Gifting accessories include add-ons like graduation caps, sports accessories and even a barbecue grill for dad. You can even add your own custom sounds to any bear or choose from a collection of yummy scents.

Browse our full line of

clothing

and

accessories

to see what's in store.

Try our Bear-Builder to experience Build-A-Bear from home to price out your very own furry friend!

Does Build-A-Bear have sales?

Throughout the year, Build-A-Bear offers numerous sales with fan-favorite offers such as BOGO for $10, 40% off select friends and exclusive discounts on limited edition stuffed animals.

Does Build-A-Bear have a clearance section?

Yes! Our online clearance section is regularly updated with discounted outfits, accessories and stuffed animals. Check back frequently for new clearance items.

Shop Build-A-BearClearance deals.
Stuffed Animals by Type
Find a furry friend PAWfect for your unique personality. Build-A-Bear has more than just teddy bears. Here, you'll find stuffed animals in all shapes and sizes.