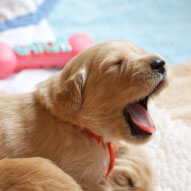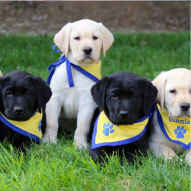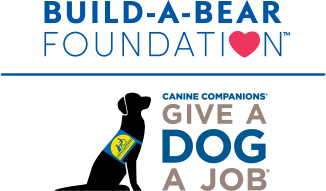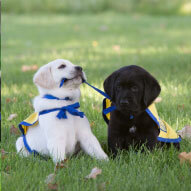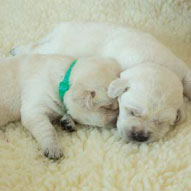 Heartley Update
Canine Companions' top priority is to produce happy working dogs that love their jobs. Not every dog is best suited as a working dog, and Canine Companions' professional trainers carefully evaluate each dog individually. Heartley decided that his perfect fit is to be a loved and happy pet with his puppy raiser Cathy and her family. He's now making a daily difference in the life of Cathy's son who has Autism. Knowing Heartley's love of children, Cathy is exploring options to enroll Heartley in Canine Companions' new therapy dog program. One day Heartley will be making a difference in the lives of hundreds of children at the local children's hospital. Good luck Heartley on your career change and new adventures - we know you'll do great things!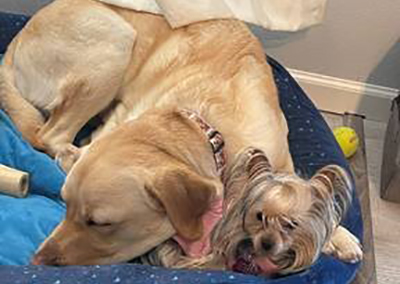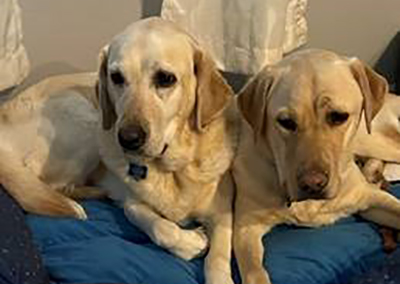 ---
Heartley Heads Off to College
This Heartley pup-date was written and published by Canine Companions for Independence on November 10, 2020. You can read the original article here!
Where It All Started
It was a short 19 months ago that Canine Companions puppy Heartley started his journey to become an assistance dog. He was a little bundle of energy, chewing on toys and excitedly exploring his big new world. Today, with the help of his volunteer puppy raisers Cathy and her daughter Kaylee, Heartley is a mature, regal young pup with a desire to serve. He has mastered all 30 commands learned from and honed by his puppy raisers and is now ready to take the next step to professional training where he will learn an additional 10 commands that will provide independence and support to a future partner.
The Adventures They've Had
Heartley has learned to navigate a house full of equipment, loud noises, car rides, baths (which are his favorite!), other animals in the house, grocery stores, parks, zoos, restaurants and everything in between. All of which is a step in preparing him for his lifelong goal of becoming a partner to a child, adult or veteran with a disability.
Working around the impact of the COVID-19 pandemic proved challenging and rewarding. While certain activities were no longer an option, Cathy and Kaylee found new ways to keep Heartley's training on track, including a final visit with Bearemy. With masks on and socially distancing, they visited the Build-A-Bear Workshop Union Station store in St. Louis, MO for a final farewell to Heartley's most favorite teddy bear, Bearemy. "It's very bittersweet to spend this time with Bearemy knowing it will be Heartley's last visit before professional training," shares Cathy. "Build-A-Bear has been so kind to us and generous to Canine Companions and we will always be grateful for the time we've spent with them."
A Bittersweet Farewell
Through tears of both joy and sadness, Cathy says, "We are going to miss his sweet face, his silliness when he's not working, his eagerness to please and his wonderfully good demeanor. He has stolen our hearts but now it's time for him to put those paws to the ground, listen to his trainers and change someone's life."
While the house may be a little quieter after Cathy ceremoniously hands off Heartley's leash to a trainer at the Canine Companions' North Central Training Center in New Albany, Ohio, the memories and joys of watching him grow up to become the handsome pup he is today will be with them always.
As we look forward in Heartley's journey, we stop to stay thank you to Cathy and Kaylee and their family for providing Heartley a safe home, a healthy diet, obedience training, but most of all… love.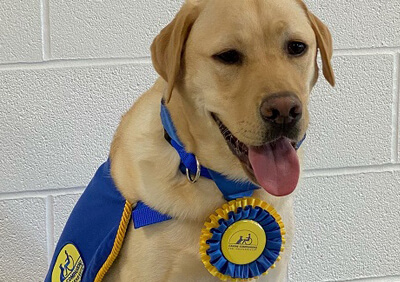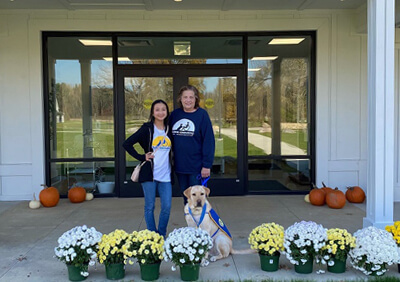 ---
Creating Learning Opportunities During the Pandemic
Distractions Are Everywhere
Training a Canine Companions® puppy to stay focused amid distractions is one of the most important tasks for puppy raisers. Heartley's volunteer puppy raiser, Cathy, has worked hard over the months to make sure that Heartley is a pro at staying on task! Distractions are all around us. The garbage truck making its rounds, children playing with pots and pans, the vacuum making noise as it cleans the house, machines in facilities that beep and make strange sounds, fireworks going off on the Fourth of July, and so much more!
Staying Focused = Changing Lives
It is important that the puppy is not distracted so that they can perform life-changing commands for their human partners as assistance dogs. Canine Companions assistance dogs are the absolute best because of their ability to stay focused on their person and their needs. Without amazing puppy raisers like Cathy, Canine Companions assistance dogs would not be possible!
Creativity is Key
One way Cathy has taught Heartley to stay focused is by taking him out to the porch on trash day to work on commands while the garbage truck makes its stops at each house. She worked with him week after week through the banging and clanging until he was no longer distracted. As most puppy raisers know, treats are great motivators! The next challenge for Heartley was to resist his urge to go into the water, which he loves so much! If given the chance, he'd hop into a pool and paddle around for hours. However, Heartley cannot go off running into any body of water (or fountain) that looks fun to swim in. Cathy works hard with Heartley on "sit" and "wait" when at a pool so that he learns to stay focused on her and to wait for the "release" command. What a good puppy he is!
Family is Here to Help
Cathy shares, "The challenge throughout this COVID-19 time has brought the creativeness out of our entire family as we stay home and create obstacles/distractions to help Heartley learn about the world around him without leaving the house." The family takes turns making noise, tossing a ball around, eating snacks, leaving kibble on the ground or playing with his favorite toy. Nothing phases Heartley anymore, he's well-trained and ready to continue his journey in hopes of becoming the best assistance dog to someone with a disability.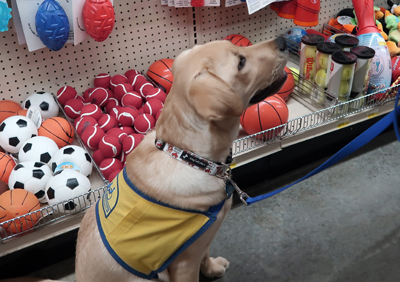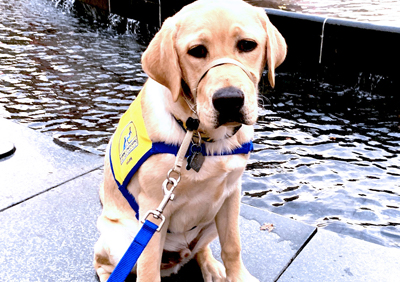 ---
With the weather warming up and the rains in the past, summer is blooming in Missouri and so is Heartley. No summer is complete without a trip to the park. But even a simple visit to the park is a prime opportunity for a Canine Companions puppy to review all he's learned.
First, Cathy puts on the vest with the "dress" command and it's time to get to work. "Let's go," says Cathy, his volunteer puppy raiser, and they head out the door with a wagging tail that tells everyone Heartley is excited to see where they're headed. Cathy loads him up in the back of the car with the "car" command and in he goes. Their adventure today is taking them just a short four miles to the city of Festus, Missouri to the West City Park which is complete with a playground, lake, ducks, birds and kids.
Once at the park, Cathy runs through a series of commands as they explore the park: "sit," "wait," "don't," "hurry" (go potty) and "up" among others. The wobble bridge on the playground is perfect for making sure Heartley is comfortable with odd and uneven surfaces. This one even makes a jingling noise as he walks across. Cathy leads Heartley from the playground to a small pier and then around the lake.
Avoiding and ignoring distractions is key for an assistance dog. As Cathy and Heartley make their way around the lake, Heartley does his best to ignore the squawking ducks in the water, the kids screeching with delight on the swings and the birds chirping and flying about. He keeps his eyes on Cathy to make sure he's doing exactly what she needs. Good boy!
A simple visit to the park can use nearly all 30 commands Heartley has learned as they navigate leaving the house, traveling by car, exploring all the different areas of a park. This is just another step in preparing him for his destiny as an assistance dog!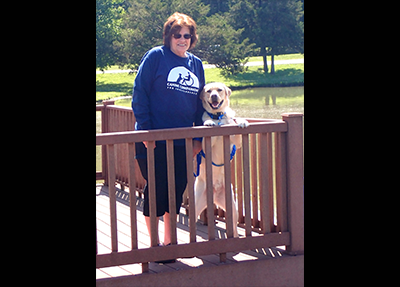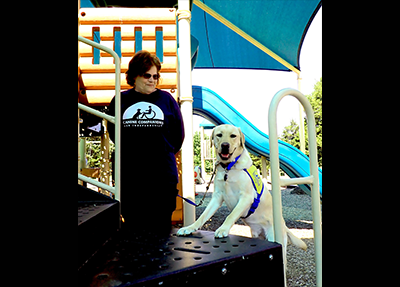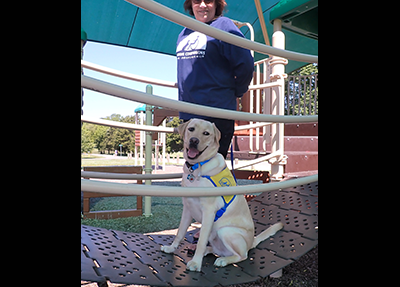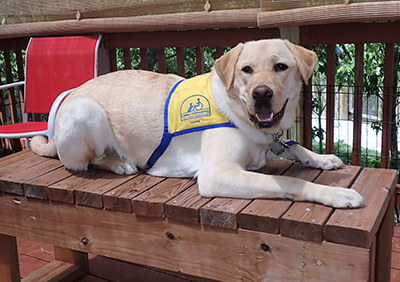 ---
At nearly 14 months old, Heartley has learned all 30 commands his volunteer puppy raiser Cathy has taught him and now he'll spend the next 4-5 months perfecting those commands before he heads off to professional training – or puppy college as some like to call it! At puppy college, Heartley will learn more advanced commands like turning on and off lights and pulling a manual wheelchair. Heartley has a great time on their backyard deck where he eagerly practiced sit, stand, stay, heel, under, lap, shake and visit.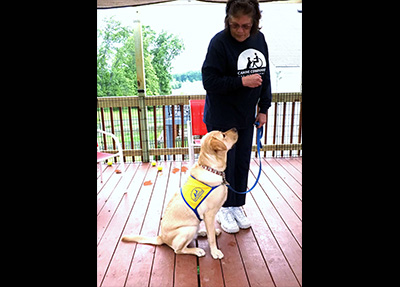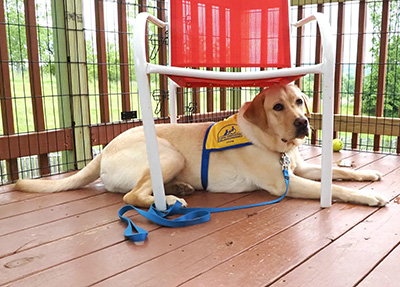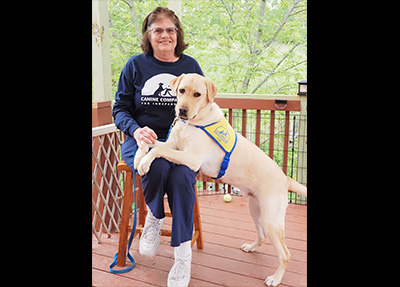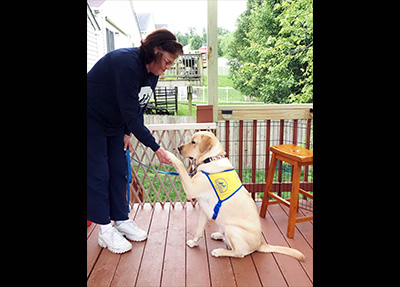 ---
Where does the time go? Heartley celebrated his first birthday on April 7! This incredible pup is well on his way to being an expertly-trained assistance dog and adding a little more heart to someone's life in the future! We had hoped to celebrate with a party at a local Build-A-Bear Workshop store, and can't wait to have a belated celebration together soon. However, his family won't let anything stop the fun! They threw Heartley a birthday party for the ages – and invited all his furry friends to join the fun! With a PUP-cake for him, and a Build-A-Bear themed cake for his family, it's safe to say that Heartley had his best birthday yet!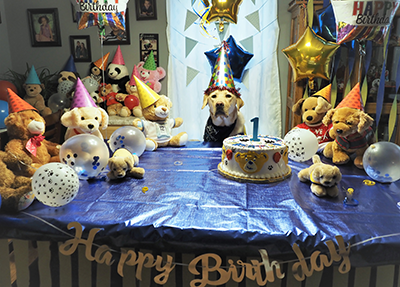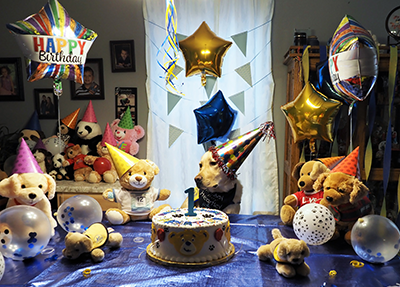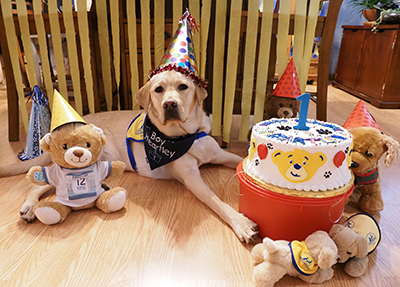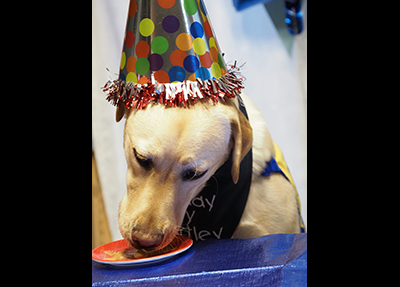 ---
Hi kids, Heartley here! I've been spending a lot of time indoors lately, but there are still lots of things my mom gives me to do to keep me busy and always learning. We work a bunch on socialization. Socialization means that I'm learning to behave properly with others, getting used to sounds like the vacuum cleaner and not being afraid of riding in the car (by the way, I LOVE riding in the car!). You just never know who you might meet or what you're going to see when you're an assistance dog, so I have to be prepared. I also love doing puzzles, do you? Mine give me kibble if I solve them correctly! Well, time for me to get back to learning. I hope you're keeping busy and learning a lot, too!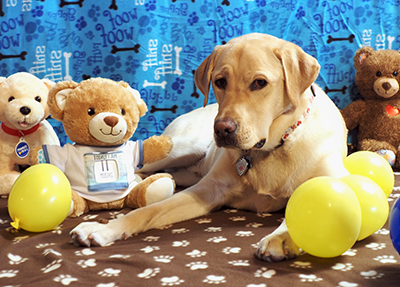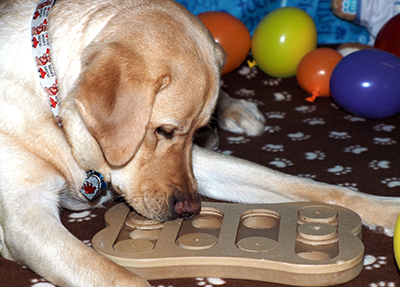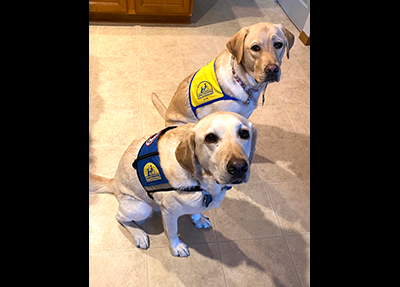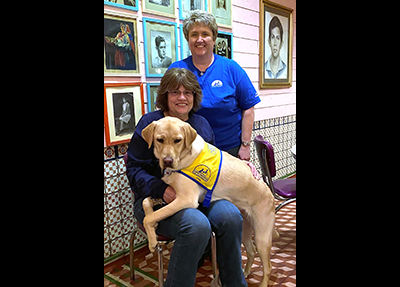 ---
Heartley's New Year's resolution is to master the 30 commands he's been taught by his volunteer puppy raiser over the last 9 months. He's currently working on UP which is where he's told to put his front paws on a counter, table or wall. Assistance dogs learn this command so that they can help their human partner with many tasks like giving a credit card to a cashier at a grocery store or putting a bag of fruit on the kitchen counter. All of these tasks help to increase the independence of people with disabilities.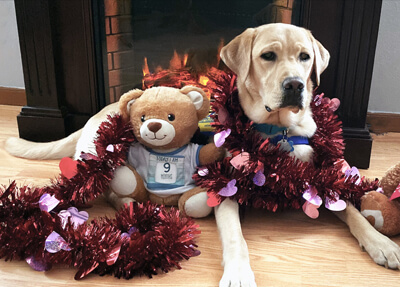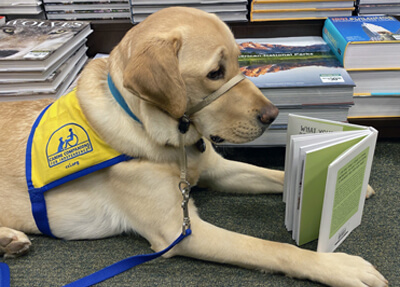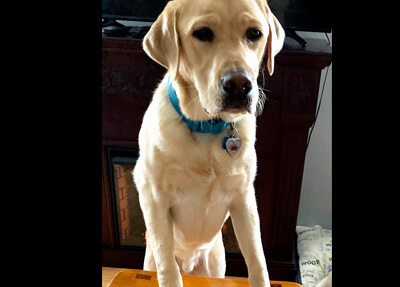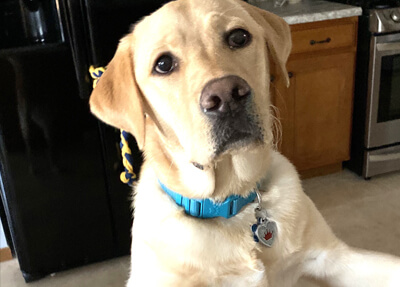 ---
Heartley visited Build-A-Bear's St. Louis-based World Bearquarters to kick off the holiday season with his friend Bearemy! Heartley loves all of his teddy bears, but since Bearemy is the biggest teddy bear around, he is Heartley's favorite!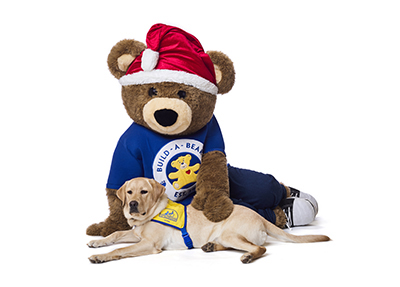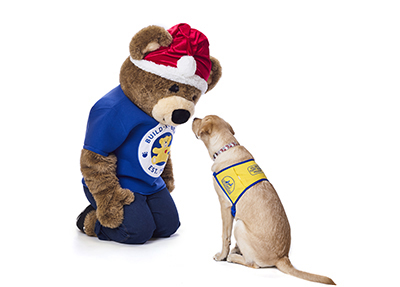 ---
Now that Heartley is 8 months old, he continues to build upon his early exposures and learned skills by getting more socialization at public outings like riding in elevators, exploring shopping centers and going on visits to other public places like his visit to Build-A-Bear Bearquarters in St. Louis in November! Heartley had a great time with all the staff at Build-A-Bear and was able to practice sitting while people greeted him, refraining from too much sniffing or scratching and walking calmly on a loose leash as he visited all the offices. He even mastered proper greetings which can be hard for a puppy that's excited to see new people and get scratches behind the ears.
In addition to public adventures, Heartley has also been introduced to equipment that he may be around as an assistance dog. Equipment like wheelchairs, motorized carts, canes, walkers and braces. With all of Heartley's training, he is confident and comfortable around these devices.
All these experiences help prepare Heartley to be a great future assistance dog!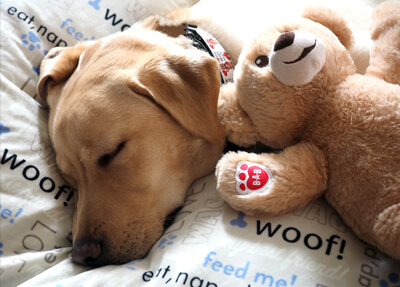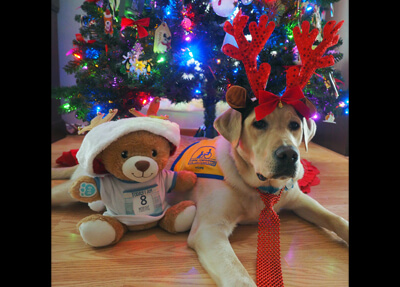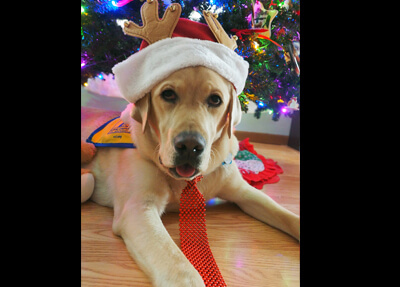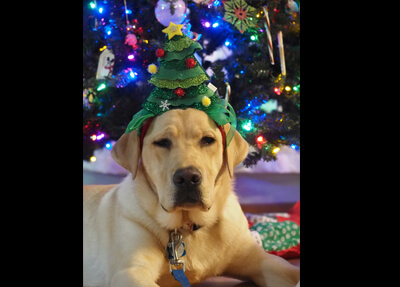 ---
At 7 months old, Heartley has learned 25 of the 30 total commands he'll learn from his volunteer puppy raiser by the time he's 18 months old. Some of the commands include: visit, jump, up, quiet and stand. His adventures to practice these commands involve walking alongside a shopping cart at the grocery store, sitting calmly and quietly under the table at a restaurant, visiting museums for exposure to new sights, sounds and textures, experiencing sudden noises so he learns to stay calm with little reaction, and having proper greetings when he meets new people and other animals.
Heartley is 48 pounds of puppy and loves snuggles, attention, playing in water, and other animals including his big brother Service Dog, Gambit.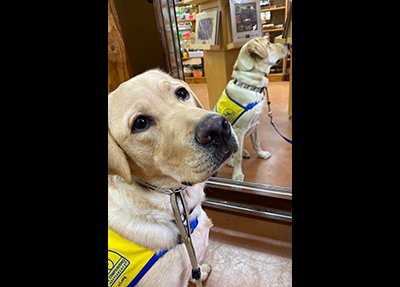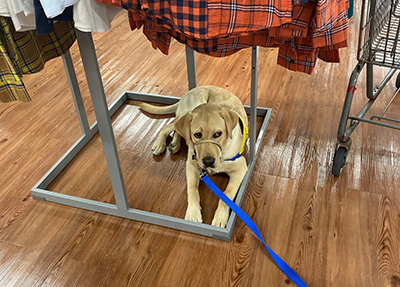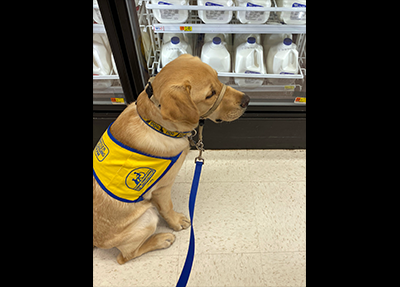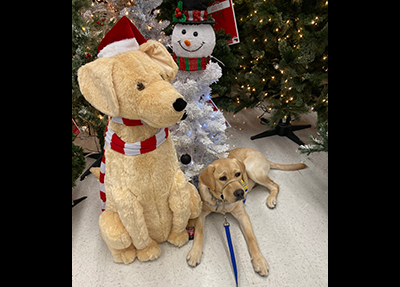 ---
Heartley has been experiencing a lot of "firsts" recently! He went on his first visit to Kansas City, Missouri, stayed in a hotel, and walked around a large outlet mall with lots of shops. He had his first restaurant visit and did very well, listening to the "under" command and staying under the table quietly. Heartley also met two little boys who were so excited to meet the Build-A-Bear puppy. They even voted for his name!
Now that Heartley is 6 months old, there are many new commands he'll be learning as well as learning to use The Gentle Leader which is a piece of training equipment that's a lot like a halter on a horse. It controls where the dog's nose goes, and where the nose goes the rest of the body follows! Heartley can still eat, drink, pick up dropped items and even bark with it on.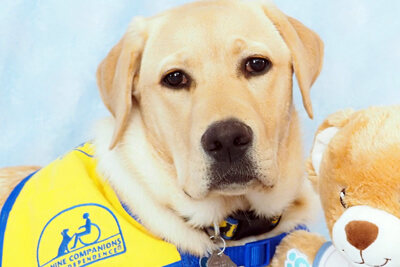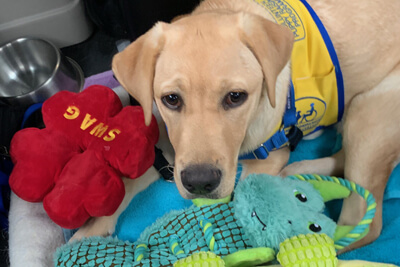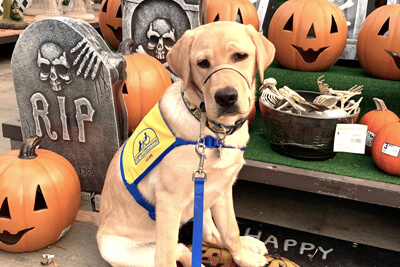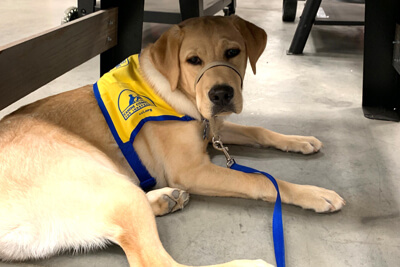 ---
Heartley visited the local farm hardware store and met the tiny mascot pig, chicks and even a bunny! The hardware store welcomes Heartley as he learns manners and how to manage all the different sights and sounds. These outings begin to help him learn how ignore distractions when he's working.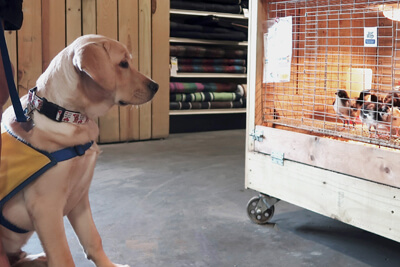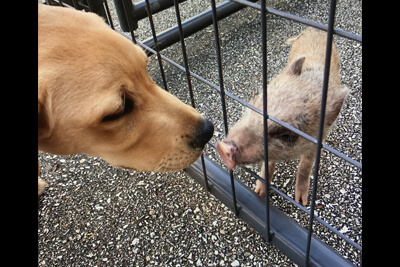 ---
Heartley is a growing boy at 43 pounds. He still loves snuggling, and he loves to sit on the front lawn and watch the neighborhood children play. Heartley is learning lots of new commands, including how to wait. He patiently waits while his family places his food bowl on the floor and will not move until they give him the "ok" command. Another way they practice waiting is by spelling out words or placing his kibble on his paws and telling him to wait. He does a great job and waits patiently.
The commands he is learning are beginning to get more complex to take him to the next part of his training! Other new commands he is learning are:
UNDER: This command tells him to lay down under something such as a chair or table.
SPEAK: This command tells him to bark.
LAP: This command tells him to put his front legs across your lap, resting on his elbows.
STAND: This command tells him to stand on all four feet without walking around.
OUT: This command tells him to go ahead through a doorway then turn and face the handler.
OFF: This command tells him to get off something or to get out of the car.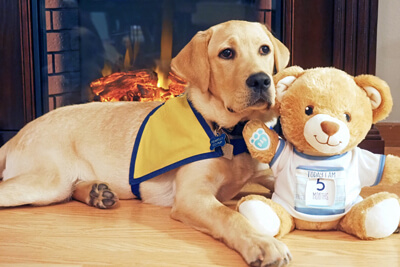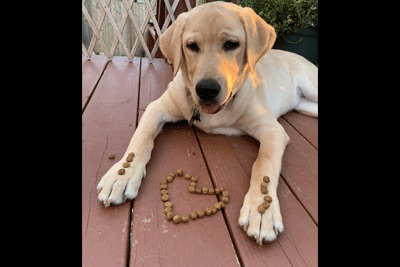 ---
Heartley made a special visit to BearQuarters, Build-A-Bear's corporate office in St. Louis, MO. Heartley loves teddy bears and was so excited to meet this biggest bear he's ever seen – Bearemy! They were fast friends and Bearemy helped Heartley make a new furry friend for his collection. All the Bears at BearQuarters loved meeting Heartley and his family and can't wait for their next visit!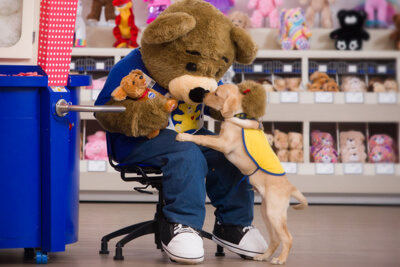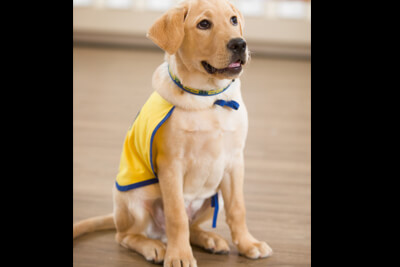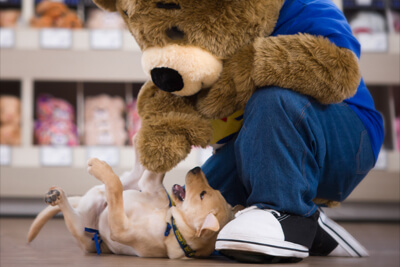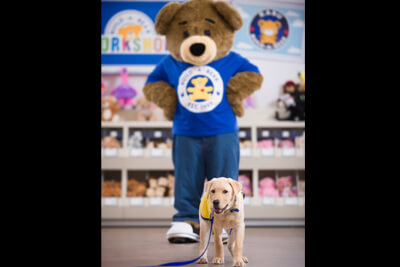 ---
Heartley is a sweet puppy and a fast learner! He is learning to walk on different surfaces, such as planks, that teach him to have confidence. We are currently working on several commands, including under, quiet, speak, visit and wait. He responds to the command wait very well because he knows once we say okay, he gets a treat! He is also working hard on learning to be patient and is dreaming of one day becoming a service dog to change someone's life, just like his big brother, Gambit.
Heartley sleeps all night with his teddy bears, which are still his favorite toys. He is an early riser (5:30 am!) and because he's still a puppy, if we try to make him wait, he barks because as far as he is concerned it's breakfast time. He is a very loving, easy-going puppy who loves to please and just such a good boy.
Like Heartley's teddy bear? Click here to visit our Lil' Cub Hugs collection!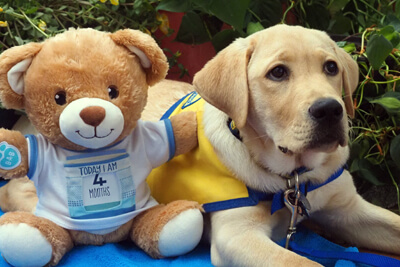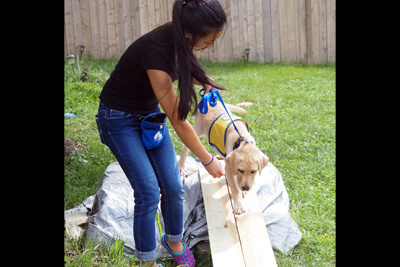 ---
Heartley is experiencing many new things including different textures, sounds and places. His family often visits an all-ability playground so he can get used to walking on different surfaces, hearing new sounds, and learning to concentrate with many distractions. Heartley loves playing in the water so going to the ability park is hard because they have a water area for children who use wheelchairs. Despite that distraction he sits very patiently and watches as the children play. He is also learning how to enter our wheelchair accessible van using the ramp. He is a very focused puppy who loves to learn and is not fearful of new things which makes training him easy!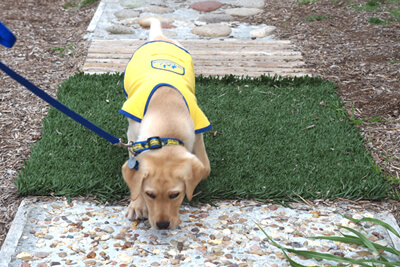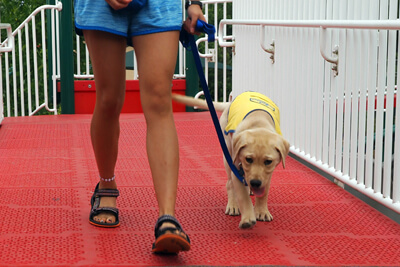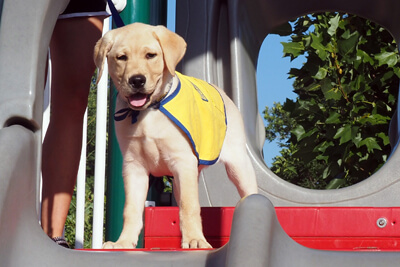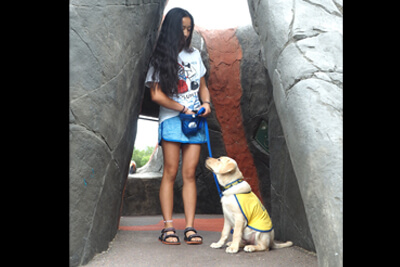 ---
Heartley is living with a family who has volunteered to raise him for a year and a half and provide him basic obedience training, socialization and care before he moves onto his next phase of professional training. Volunteer puppy raisers play an important role in the training of assistance dogs but are often asked, "How can you give him up?" But, according to Heartley's family, "We are not 'giving him up.' We are giving someone a chance at independence and we are only one part of the training triangle of breeder caretakers, puppy raisers and professional trainers. Although we dearly love Heartley, he hopefully one day will totally change someone's life by giving them the opportunity to be independent. What a blessing and honor to be a part of this 'training triangle.'"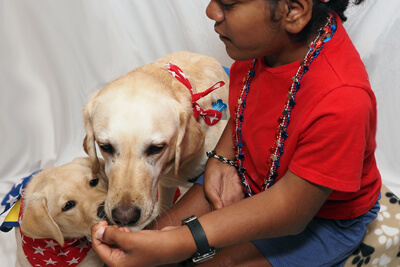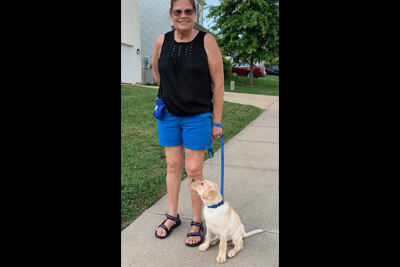 ---
Heartley is three months old already! He is learning many new skills and has already mastered 15 commands that he does consistently. He a sweet boy who loves his family, his teddy bears, treats, and snuggling!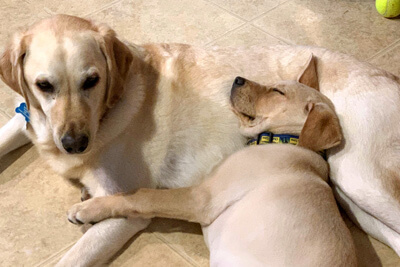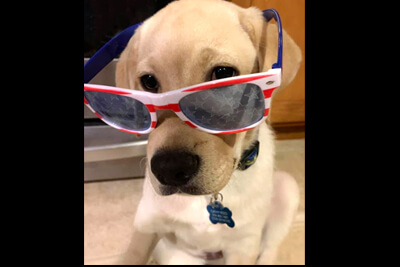 ---
Heartley is growing up so quickly and as sweet as can be! Check out this side by side of him with his first Build-A-Bear, at 2.5 weeks and 12 weeks! Love Heartley's bear? Check out our Lil' Cub Hugs collection.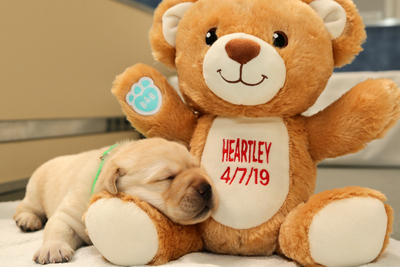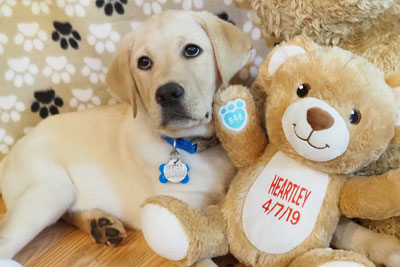 ---
Heartley is all pup! He loves the water and sleeps with his bear and stuffed dog. According to his Puppy Raiser, Heartley is very smart but can sometimes be stinker – when he doesn't want to go for walk he just lays down because he thinks he's the boss! He's already mastered several commands and is a very good boy!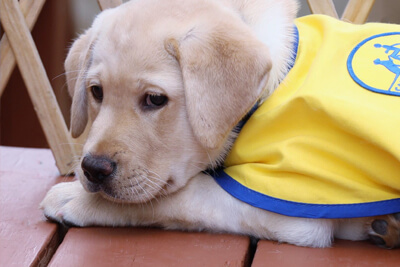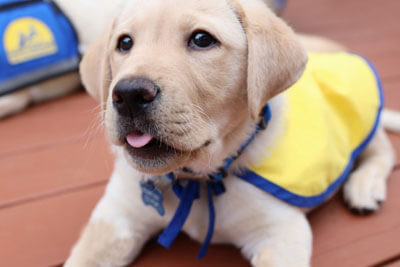 ---
Heartley is living in a home with Gambit, a Canine Companions graduate! They are fast friends and, as Heartley continues his training, Gambit will be by his side.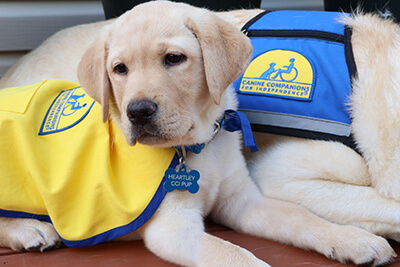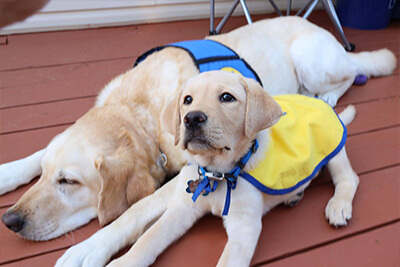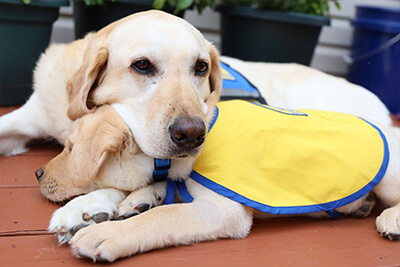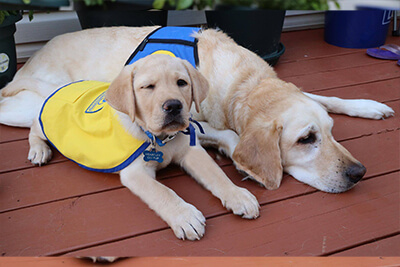 ---
Heartley is settled in at his new home and learning quickly! According to his puppy raiser, Heartley has already mastered his name, sit, here, hurry (go potty), kennel, wait, down, going up and down the steps, learning to walk on the leash and wearing his cape. He will soon be old enough to venture out so stay tuned for more of his adventures!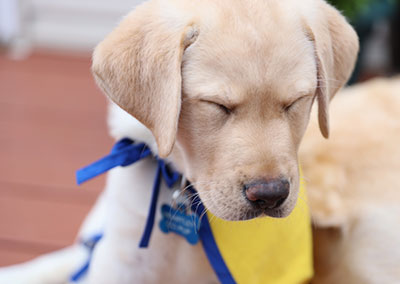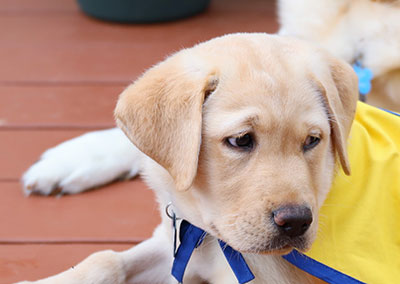 ---
Heartley loves his new home! According to his puppy raiser, he is a smart pup and a fast learner. He has already mastered going up and down the deck steps and a few other commands!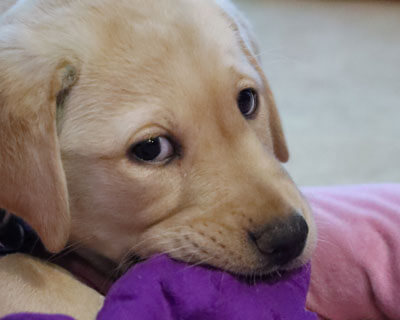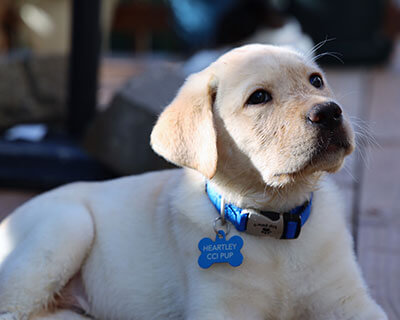 ---
He's tuckered out from his travel but Heartley has made it to his new home near St. Louis, MO! He will live with a family of volunteer puppy raisers who will train him in obedience and basic commands in the first steps on his journey to become a service dog.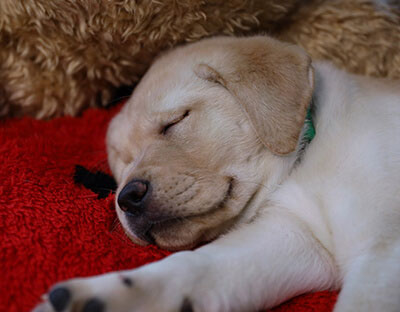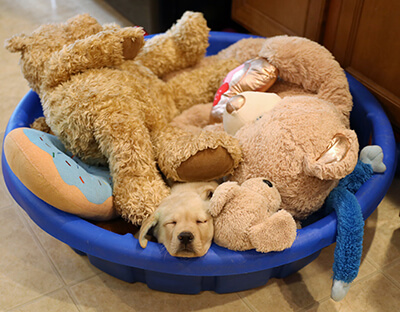 ---
Heartley and his brothers and sister gathered for a family photo! Now 8 weeks old, the puppies are all on their way to their new home with their volunteer puppy raisers!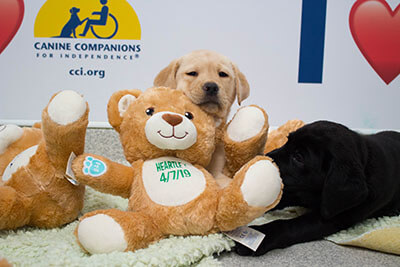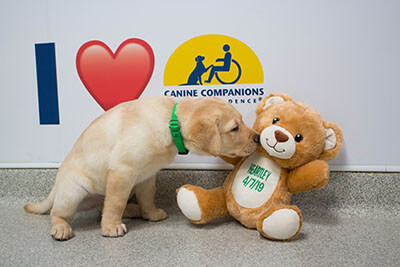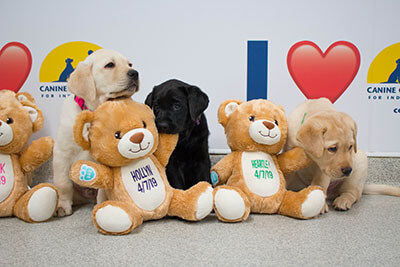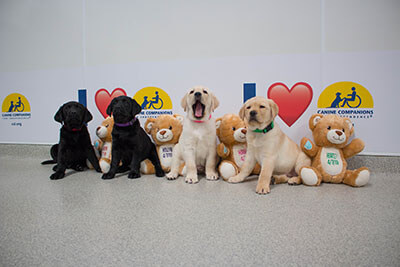 ---
Heartley 6 weeks old and doing great! Heartley and his siblings love to cuddle with the Canine Companions staff and their mom Betsy.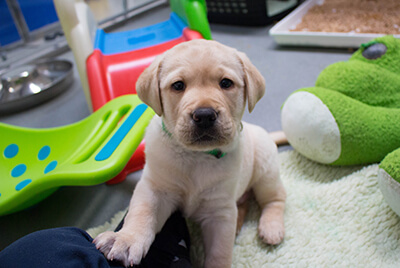 ---
Heartley is one month old and just got his first toy!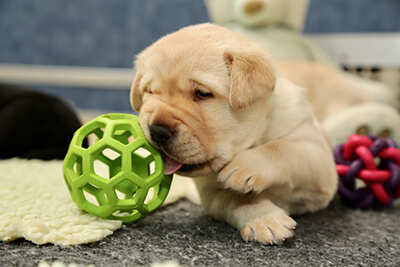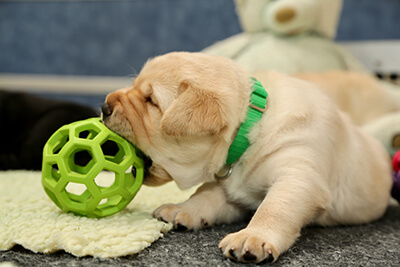 ---
Say Hello to Heartley!
Thousands of votes later, our Canine Companions for Independence puppy officially has a name!
Thank you for voting!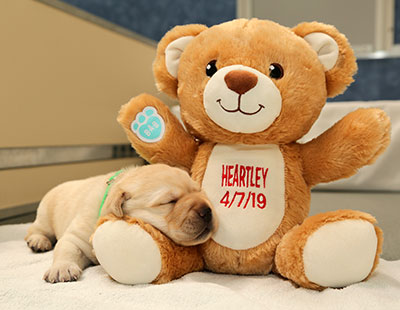 Love Heartley's teddy bear? Check out our Lil' Cub Hugs collection!
PUPPY ON BOARD
We're Raising a Puppy for Canine Companions for Independence!
At Build-A-Bear, our love for furry friends is central to our mission of adding a little more heart to life – which is why we're thrilled to partner with our friends at Canine Companions for Independence to help raise an assistance dog! Canine Companions for Independence is a non-profit organization that provides highly-trained assistance dogs for people with disabilities, opening new opportunities for greater independence and confidence. Assistance dogs often become best friends to their human partners – and Build-A-Bear Foundation is thrilled to join this ongoing mission of providing quality partnerships and forever friendships.
IT'S A...
HELP CHOOSE A NAME FOR OUR PUPPY
Thousands of votes were cast by our Guests and the big reveal is coming soon! You won't want to miss a single update in our journey with Canine Companions for Independence!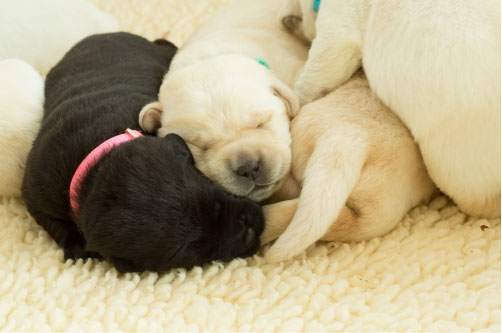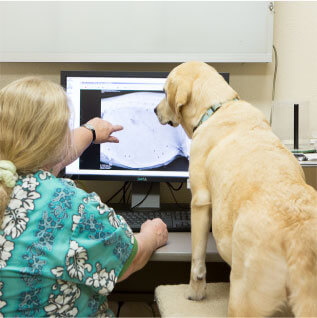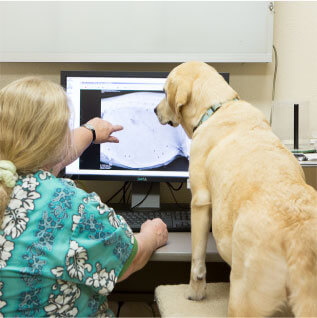 Pictured here is a Canine Companions dog who is expecting a litter of puppies! One of the furry bundles of joy that she delivers will be placed in a loving home and partnered with a volunteer puppy raiser. From taking the puppy to obedience classes to serving them a healthy diet, volunteer puppy raisers play a pivotal role in uniting people with trained assistance dogs – and you'll get to be a part of this special four-legged journey too!

We're so excited to document this Canine Companions partnership for our Guests – many of whom have generously supported Canine Companions for Independence with donations at Build-A-Bear Workshop. We invite all our Guests to join our Canine Companions puppy on the first steps of its journey and watch it train and grow through updates right here and on all our social media channels. One day, they'll become a Canine Companions for Independence assistance dog for a child, adult or veteran with a disability!

FOLLOW OUR PUPPY'S JOURNEY
Check back here for more news about our puppy! We'll be documenting and posting regular updates on our furry bundle of joy.
Looking for a Furry Four-Legged Friend of Your Own?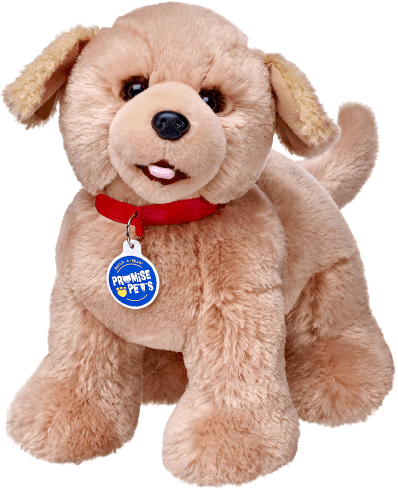 Looking for a Furry Four-Legged Friend of Your Own?
Bring Happiness Home with Our Promise Pets Collection
VIEW COLLECTION